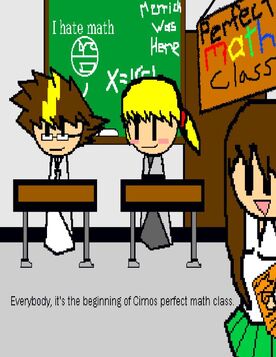 Perfect Math Class (完全なMathクラス) is a music video based off Cirno's Perfect Math Class. While its not an episode in the shorts series nor has any significance to the series story, it does feature characters from the series, including main characters Jake, Thyra and has cameos from Amanda, Merrick's cousin Emily, Alecia, and David, none of who had appeared in a episode or mini since.
As mentioned earlier, the story in this music video has no significance to the Merrick Shorts series overall, but there is a bit of story here.
Thyra, apparantly a student, tells the class that it is time for Cirno's Perfect Math Class, and to do their best to be a genius like her. You can see that the blackboard says "I hate school" at this point.
The scene then changes to Merrick, who is seen racing his way to his future school, East Kentwood, and is confident he can enroll in the school. Student David, however, doesn't think so, and repeatedly calls him an idiot, which Merrick does not appreciate hearing.
Characters
Edit
Merrick
Jake
Thyra
Amanda
Alecia
Emily
David
All dialogue in the video is Japanese, but translated to English in subtitles.
"Everybody, its the beginning of Cirno's Perfect Math Class! To become a genius like me, do your best!"
"A sparkling diamond, shining like a star"
"Glory, my preferred school, I'll get in somehow"
"Genius, prodigy, aim for the top, go go!"
"Idiot idiot, idiot idiot, idiot idiot"
"Wait, no, im not an idiot!"
"Idiot idiot, idiot idiot, idiot idiot"
"The one saying idiot is the idiot!"
"Idiot idiot, idiot idiot, idiot idiot!"
"What? How annoying! You idiot!"
"Idiot idiot, idiot idiot"
Ad blocker interference detected!
Wikia is a free-to-use site that makes money from advertising. We have a modified experience for viewers using ad blockers

Wikia is not accessible if you've made further modifications. Remove the custom ad blocker rule(s) and the page will load as expected.