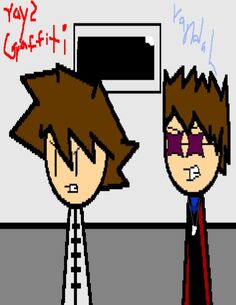 Falcon Punch is a short Merrick designed to wrap up his 9th grade year in high school. It was a part of his collection of shorts in his video, "Merrick Shorts 2011". It stars Merrick, main antagonist Mr. Blain, Thyra, Paige, Melissa, Chester, and a cameo from Calvin and Hobbes.
Characters
Edit
Merrick
Josh (Not official)
Mr. Blain
Paige
Melissa
Chester
Calvin (From Calvin and Hobbes)
The graffiti in the background changes often to match the moment of the scene. For instance, before Merrick gets hit by Mr. Blain, the graffiti reads "Merrick fans" on one side and "Blain fans" on the other, and switches ,after sending Merrick flying, to "Fail Merrick."
This is Mr. Blain, Paige, Melissa, and Chester's first appearance in the series.
Thyra had her hair red instead of black like it is now.
Ad blocker interference detected!
Wikia is a free-to-use site that makes money from advertising. We have a modified experience for viewers using ad blockers

Wikia is not accessible if you've made further modifications. Remove the custom ad blocker rule(s) and the page will load as expected.